Personal eTextbook (Kortext)

2 items

A Personal eTextbook (Kortext) selected by the Module Leader has been purchased for each Middlesex University student studying at the London Hendon campus
These Personal eTextbooks (Kortext) can be accessed from the module area in myUniHub
Students will also be emailed with their account details for the Kortext App

Referencing & Plagiarism

1 item

Cite them right online is the referencing standard for Psychology. It will help you to reference just about any source (be it print, electronic or performance), and to understand the importance of referencing accurately.

Please Note: Psychology uses the APA (American Psychological Association) referencing system. Cite Them Right uses the Harvard referencing system as a default so you will need to change this to APA by selecting it from the referencing system drop down menu.

More information on Referencing & Plagiarism can be found here.

Forensic psychology - David A. Crighton, Graham J. Towl 2015 (electronic resource)

Book Essential

Students should keep abreast of developments in this area

Session 1: Problematising Policing (Dr Jeffrey DeMarco)

10 items

We will start with an introduction to this module and the practice contexts to which it relates. We will then move on to consider issues of procedural and distributive justice, and some wider social/personal factors that are influential in the interaction between the police and public. This includes understanding the principles of public-police interactions and relationships

Read the above article in conjunction with the Erratum published , please see below

The Oxford handbook of criminology - Alison Liebling, Maruna Shadd, Lesley McAra 2017

Book Additional Coretta, P. & Bowling, B. Ethnicities, racism, crime and criminal justice (pp. 190-212).

Session 2: Police Cultures (Mr Mark Yexley)

8 items

In this session we will consider the 'police culture' that exists in the modern police service. We will also discuss the implications of this and attempts to effect change in what has traditionally been an environment that is male dominated and lacks cultural diversity. This session will be given by Mark Yexley, who is a former police officer.

Session 3: Offender Profiling (Professor Mandeep Dhami)

16 items

In this session we will explore the history and approaches to offender profiling, as well as the process involved. We will consider the scientific underpinnings of this discipline, and review research that has examined the effectiveness of offender profiling.

Session 4: Interviewing Suspects (Dr Shola Apena Rogers)

9 items

In this session we will review the literature regarding interviewing suspects, and examine practice both in the UK and USA. We will also consider research evidence regarding the effectiveness of interviewing.

Interviewing Suspects - Home Office 03/08/2017

Document Additional If the link is broken, visit https://www.gov.uk/government/publications/interviewing-suspects

Session 5: Victims and survivors in the Criminal Justice System (Dr Miranda Horvath)

7 items

In this session, we will consider how a victim is regarded within the Criminal Justice System of England and Wales. We will consider their rights (under EU and British law), their protections and their roles.

Session 6: Adults as Witnesses (Dr Jeffrey DeMarco)

9 items

In this session we will review the theories of human memory, before moving on to address questions specific to police investigations, such as: What factors affect the quality & quantity of memory? Can eyewitness recall be enhanced by particular interview techniques? Can people's memories for events be changed? Is eyewitness identification of suspects reliable? What are the appropriate techniques for good practice in interviewing witnesses, in line with what we learn about human memory? Specifically, we will explore the P.E.A.C.E model for police interviewing.

Session 7: Detecting Deception (Dr Jeffrey DeMarco)

14 items

Is it possible to tell when someone is telling the truth? Are experts, such as the police, better than non-experts at telling when they are being lied to? Can technology, such as the polygraph, improve the accuracy of deception detection? We will explore methods used in validating the use of the polygraph, but also other social scientific measures, such as Criteria Based Content Analysis (CBCA) in assessing deception. These are a few of the questions that will be considered during this session addressing a potentially very useful skill in the investigative process.

Session 8: Confessions and Suggestibility (Dr Shola Apena Rogers)

8 items

In this session we will continue the consideration of police interviewing of suspects by looking at the specific issue of confessions – both true and false. We will address the psychological and procedural factors that have been found to be associated with confession, including interrogative suggestibility and associated issues.

Session 9: The Psychology of Forensic Analysis (Professor Mandeep Dhami)

11 items

This week, we will focus on some of the other forensic sciences, namely fingerprinting and DNA analysis so that you can consider where forensic professional practice may go awry. In particular, we will highlight the cognitive processes and biases that may occur, and the potential for incriminating the wrong person.

Session 10: Interviewing Children and Vulnerable Witnesses (Dr Shola Apena Rogers)

11 items

In this session we will consider the challenges of interviewing witnesses who are particularly vulnerable, such as children and those with learning disabilities. We will critically evaluate the use of particular interviewing techniques, rapport building and the use of aids such as anatomical dolls.

Session 11: Working with Vulnerabilities in the Criminal Justice System (Dr Eve Hepburn)

8 items

In this session we will consider best practice regarding working with vulnerabilities within the criminal justice system; and how theory and research can be applied to further improve practice throughout the CJS. This will include a critical account of research on diverse profiles, including concepts of disorder.

Session 12: Jury Decision Making (Professor Mandeep Dhami)

10 items

Juries are a particular forum in which important decisions have to be made. In this session we will set out to understand how jurors and juries make decisions, to identify the factors that may affect the quality of jury decision making, and explore ways in which jury decision making can be improved.

Session 13: Prosecuting Sexual Violence in the Courts (Dr Sarah Heke)

8 items

This session will start with a consideration of the development of legislation related to rape, and the changes in the definition of this offence. We will then move on to the consider how the attitudes of the public and legal professionals combine to make this a particularly challenging crime for victims to report and support through the trial process.

Carnal knowledge: rape on trial - Lees, Sue 2002

Book Digitisation You probably won't be able to read it all, but read Chapter 1: Women speak out (pp.1-36), and as much of the rest as you can

Session 14: Civil Justice and Writing Expert Reports (Dr Eve Hepburn)

8 items

In the first part of this session we will consider the roles of forensic psychologists in the civil courts. We will start with an overview of the civil court structure, then move to a comparison with the criminal courts. We will then identify some examples of when and how psychological input may be beneficial, considering some particular roles such as conducting psychological autopsy (which is particularly popular in America), and address the issues that arise in these situations. In the second part of the session we will return to the subject of writing expert reports, when you will have the opportunity to work on the final assessment for this module. It will be useful if you can bring at least an outline plan of your report to this session.

Session 15: Sentencing Practice (Professor Mandeep Dhami)

10 items

Sentencing is the stage of the justice system where society (via the sentencer) has an opportunity to respond to offenders. In this session you will be introduced to the sentencing framework in England and Wales. We will identify the main trends and disparities in sentencing decisions and examine the use of 'extra-legal' factors in sentencing. We will also critically evaluate the efforts to improve sentencing practice through the implementation of sentencing guidelines.

Why punish? - Nigel Walker 1991

Book Essential the whole book is relevant but at least chapter 1 should be read

Session 16: Procedural Justice (Dr Jeffrey DeMarco)

7 items

Public confidence in criminal justice is receiving increasing attention from social scientists and policy-makers. The criminal justice system relies on co-operation from members of the public to an extent unlike other public services; and notions of 'legitimacy' and 'consent' are vital if the police and other criminal justice agencies are to function effectively and in accordance with democratic norms. This lecture outlines the empirical evidence on public confidence in criminal justice and considers the factors believed to influence confidence and legitimacy

Session 17: Consequences of Imprisonment (Dr Lisa Marzano)

6 items

Imprisonment is a topic of prime interest to the general public yet is rarely well understood. We set incarceration within the context of community based penalties and rehabilitation. In this session we will consider some key questions and debates, including: what, if any are the psychological effects of imprisonment? What is prison life like? What should it be like? Which factors are most likely to affect prisoners' adaptations to incarceration?

Session 18: Coping, Suicide and Self-Harm (Dr Lisa Marzano)

10 items

In this session, we will focus on key debates regarding research and practice on suicide and self-harm in prison. Theoretical models of prison suicide and self-harm will be considered, as well as issues around the assessment, management and prevention of suicide risk in custodial settings.

Suicide in prisons - Martin McHugh, Louisa Snow, Graham J. Towl, British Psychological Society 2000

Book Additional

Session 19: Offenders in the Community (Dr Eve Hepburn)

11 items

In this session we will focus on approaches to the supervision and management of adult offenders in the community, primarily by considering the work of Probation practitioners within the National Probation Service. We will explore the roles and responsibilities they have when working with offenders and within the wider Criminal Justice System. Approaches to risk assessment and management, public protection, assessing and addressing offending behaviour and enabling change will be explored; with links made to relevant psychological theory.

Website Essential Please spend some time with the following website in working with people desisting from crime

Foundations of offender rehabilitation - Sharon Casey 2013

Book Essential In particular Ch. 2: Theories of Offender Rehabilitation & Ch. 3: Theories of Behaviour and Behaviour Change. Then you may want to look at some of the case examples given at the end of each of Chapters 5/6/7/8, depending on your particular interests, as they helpfully bring theory and practice together.

Psychology in probation services - David A. Crighton, Graham J. Towl, Ovid Technologies, Inc 2005 (electronic resource)

Book Additional In particular, Chapters 1, 2, 4, 5 & 7

Journal Additional In particular Part 12 of the Act which covers sentencing, including chapters 2, 3, 4, 5 & 6.

Handbook of probation - Loraine Gelsthorpe, Rodney Morgan c2007

Book Additional For an overview of the history of Probation, changes that have contributed to the development of the service and the "what works" research and agenda for reducing reoffending

Transforming Rehabilitation: A Strategy for Reform 2013

Document Additional This makes changes to the supervision of prisoners receiving less than 12 months Custody and creates new Requirements for Community and Suspended Sentence Orders to facilitate the Transforming Rehabilitation Agenda which introduces private providers of Probation Services

Session 20: Desistence, Throughcare and Aftercare (Ben Ross, Critical Time Intervention Lead, Offender Health)

8 items

Since 1974--when Martinson famously asked "what works" to reduce reoffending--there has been debate as to whether anything "works" and an increasing policy perspective that some things can indeed reduce recidivism and encourage reintegration to society, post punishment. This session considers some of the major approaches in this field, including the Critical Time Intervention model.

Session 21: Expert Report Writing Workshop (Dr Eve Hepburn and the Learning Enhancement Team)

0 items

You are expected to undertake independent research and to read more widely than the resources provided in this reading list.

The Library's Online Subject Guides (http://libguides.mdx.ac.uk/psy) are a good place to start with your research, as they bring together the key research tools for your subject area and offer a wide range of support.

Your Subject Liaison Librarian will also help you with your research, finding and accessing resources and referencing your work:

Creative Commons Attribution-NonCommercial-ShareAlike 3.0 Licence
Profile Required
Reading intentions and notes are stored against your user profile. Please create a profile to use this feature.
My notes
You must be logged in to add a note
What are item notes?
You can use item notes to make personal notes on any of your reading items. Notes are private to you and will not be shown to other users.
You can review your item notes from the list, the item page or from your profile page.
---
How do I create an item note?
To make notes, first you must be logged in. Once logged in, simply click Add note? next to the list item you wish to make notes on. You can also make notes at the bottom of every item's detail page.
Your note will be saved automatically as you type.
Have you read this?
You must be logged in to set a reading intention
What are reading intentions?
Setting up reading intentions help you organise your course reading. It makes it easy to scan through your lists and keep track of progress. Here's an example of what they look like: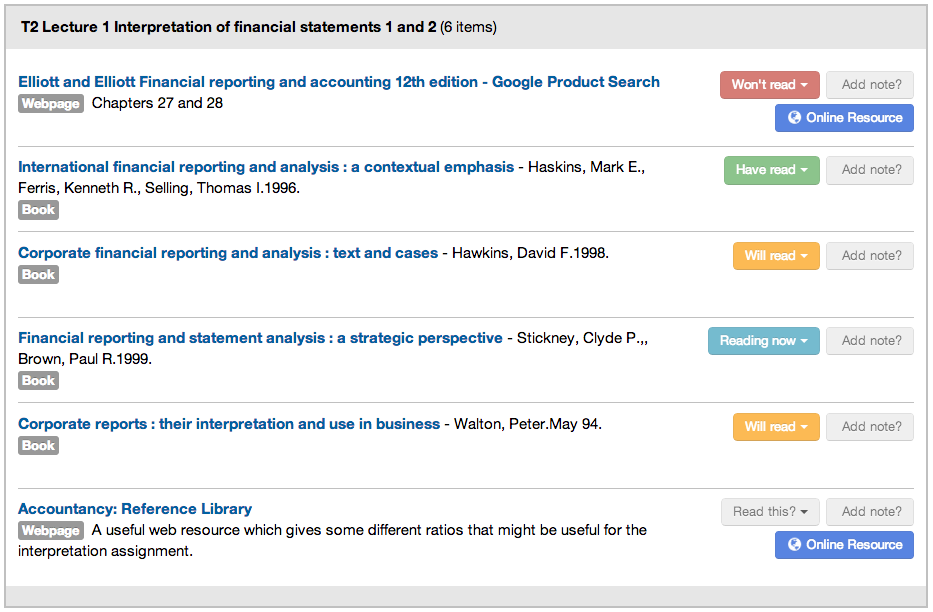 Your reading intentions are also stored in your profile for future reference.
---
How do I set a reading intention
To set a reading intention, first you must be logged in. Once logged in, click Read this? next to the list item you wish to set a reading intention for.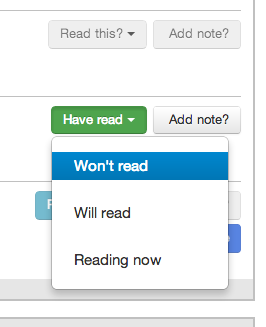 You can also set the reading intention from every item's detail page.